There's so many places for great food and great vibes in Melbourne. If you're vegan, vegetarian, gluten, lactose intolerant, paleo, raw, any and all of the above or NONE of the above, you will find options that cater to you and do so with flavour, joy and generosity.
Herewith, and I must confess I haven't tried all of them, are some great finds in Melbourne. Some I have dined at, some I am YET to dine in, but all of them come highly recommended by friends, colleagues and fellow Melburnians.
I'm also going to give a shout-out to my raw food workshop on February 7 at Kotch Lane Cafe in St Kilda. For $45 you get a handbook, goodie bag of products, entry to a doorprize, hands-on raw food meal making, and the fun of being in a group of curious, inspired people.
Fed Up Project
South Melbourne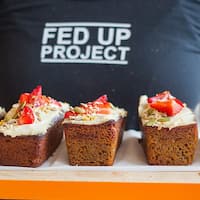 Good food, local produce. This relative new-comer is a haven of nutritious and yummy offerings located right near the South Melbourne market so you can dine and then be inspired to go and buy your own ingredients. OR you can walk in circles around the market to build up an appetite and then go nourish your body and soul. Visit
Fed Up Project
.
Uncle & Jak
Fitzroy
Easy parking, yes please. This is a menu that doesn't turn into a novel, which is promising. Doing the menu options you offer WELL with fresh, carefully selected produce is worthy of respect. Pretty easy to park this end of Johnston Street, especially on weekdays. A brunch or lunch post yoga is easily catered to. I can vouch their coffee is excellent and George is a sucker for the turmeric latte here (I can vouch it LOOKS cool.) Visit
Uncle & Jak
.
Fourth Chapter Cafe
Prahran
All day breakfast menu? Yes, please! Lunch available from 11am. There's meat for your carnivorously inclined friends and fam. There's some absolutely belly loving bounty on the menu here and like most things in Prahran, the venue is super chic. Environment is vital! Visit
Fourth Chapter Cafe
.
Vegie Bar
Fitzroy
This is a stalwart of Fitzroy and you simply must. Their raw food offering is genuinely divine. Raw Pad Thai, tacos, cheesecake. This is an offering that goes beyond superfood salads and proves raw food is creative, expansive and exciting. Visit
Vegie Bar
.