I know how to cook, prepare and serve delicious, nutritious meals.
I can also talk macronutrients, energy, allergies, vitamins and minerals.
In short, I'm not in the dark when it comes to food and how to look after myself. There are other reasons for using a meal delivery service.
Good Reasons To Use Meal Delivery:
Being caught up in a hectic, unpredictable time where shopping, planning meals and feeding yourself and your family or housemates just isn't possible (ie. new job, illness in the family)
Experiencing injury or illness that can sap you of energy and the physical ability to get out and about to shop and then to do the preparations also.
Feeling caught in a rut and eating the same meals over and over again
Struggling to find inspiration for new ideas at meal times and wanting a kick in the butt
Curiosity
Why I Use Meal Delivery
I am guilty of being caught in eating the same meals all the time because it's easy. I know exactly what I need to buy in advance, I know how long it takes me to prepare and I know I like it. Only, I get so bored and if I'm bored, so is my body! Variety - just as in the classes you do, the friends you have, the places you go - is fuel for the soul. The body also benefits in every way from a variety of flavours, nutrients and just the mental effect of discovering something different and inspiring.
Which Meal Delivery Service To Use
There's already some really great services that deliver around Australia, and there are new ones popping up every week. This is both fabulous and also overwhelming if you're not sure where to start or you've had a bad experience.
I've used the following and I highly recommend them. None of them require contracts or an ongoing relationship. You can order a one-time-only delivery and never do so again if you want!
This is for the person too busy to shop but not completely inept in the kitchen. This is for people who enjoy the preparation factor, but don't want to walk through supermarket aisles for the sake of a few meals. The box arrived for me on Tuesday morning (delivered silently in the very early hours of morning!) and had each meal packaged in a separate large paper bag.
In the box, recipe cards that described the preparation of each meal including cooking and prep time. I was provided herbs, flavourings, raw ingredients and ultimately, I had to cook and prepare. The great thing about this is that I felt like I had control over the level of flavouring I could add, and I could be a little creative as far as presentation and making any little adjustments like changing the choice of herbs or adding different vegetables.
I heartily recommend the chicken and fish meals as well as the superb Superfoods Veggie Bowl. I did add extra protein to this one but if you didn't, it's ideal for vegans and vegetarians.
Marley Spoon
Kate Save is a clinical dietitian with a true passion for food and it shows in the delicious menu options she offers. She designs meals with a real focus on balanced amounts of protein, carbs, vitamins and micronutrients to ensure hormonal balance, weight control and VERY importantly, flavour. From frittata to curries, chunky soups, chia pods, protein ball snacks through to vegetarian friendly tofu dinners, there is no skimping on quality and yumminess.
Kate has worked with eating disorders, obesity, diabetes, juveniles and adults in her clinical role of dietitian and it was this, combined with her genuine love for preparing healthful, flavourful foods, that acted as the catalyst to start her own business. She has raised her children on these same meals and it is imperative to her that they are well fed, nourished and loved. This comes across in the food that arrives on my doorstep. It is full of flavour, perfectly balanced for a fit and weight-conscious individual, and also full of love and soul. There is nothing dry and boring about Kate's meals and even though they are perfectly measured as far as macronutrients (safe for anyone looking to lose or maintain weight), there is nothing boring about Kate's menu.
You can put in an order as late as Sunday evening and be assured of delivery the following Tuesday - everything is prepared and delivered fresh and clearly labelled.
I totally recommend the chia puddings - in fact, I'd put in an order for these alone! - and the frittata with kale and chickpeas. Delicious. Definitely don't skip the
Berry Bliss Chia Pudding
and the
Blueberry with Chia Seeds
.
I also loved the
South American Chilli Beef And Beans
for lunch on the go.
Be Fit Food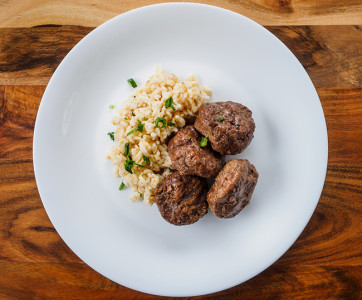 My Muscle Chef
was the very first meal delivery service I tried and it is not at all what I feared it might be: tiny portions of NASA-grade food for body sculptors who subsist on a couple of almonds and a lettuce leaf. THANKFULLY these are divinely tasty and the fact they are energy-controlled and designed with the ideal ratio of protein to carbs is an afterthought once you dig the fork in. The meals range from vegetarian through to kangaroo, fish, chicken and beef.
I'm a big fan of the kangaroo with brown rice. It's so easy to overcook and dry out kangaroo meat but this is perfectly prepared and delivered for maximum flavour and texture. I admit, the meals are not nearly as big as I need for dinner. As a lunch option, perfectly portioned. I add nuts, extra rice and loads of vegetables to the dinner portion and occasionally, extra protein depending on my appetite. They deliver weekly to Melbourne and Sydney.
My Muscle Chef
Other delivery services I recommend trying include
Aussie Farmers Direct
,
Woolworths Online
and
Nourished Life
for supplements and healthy meal preparation tools.